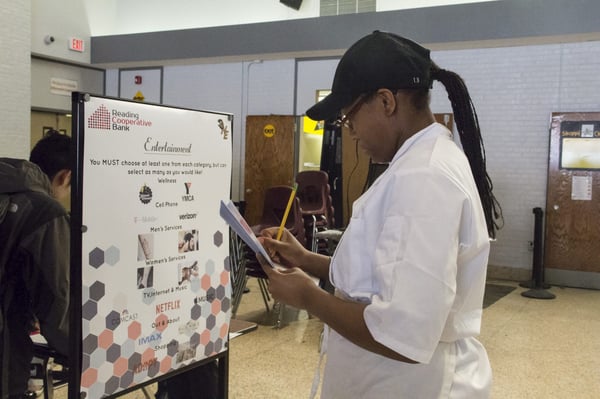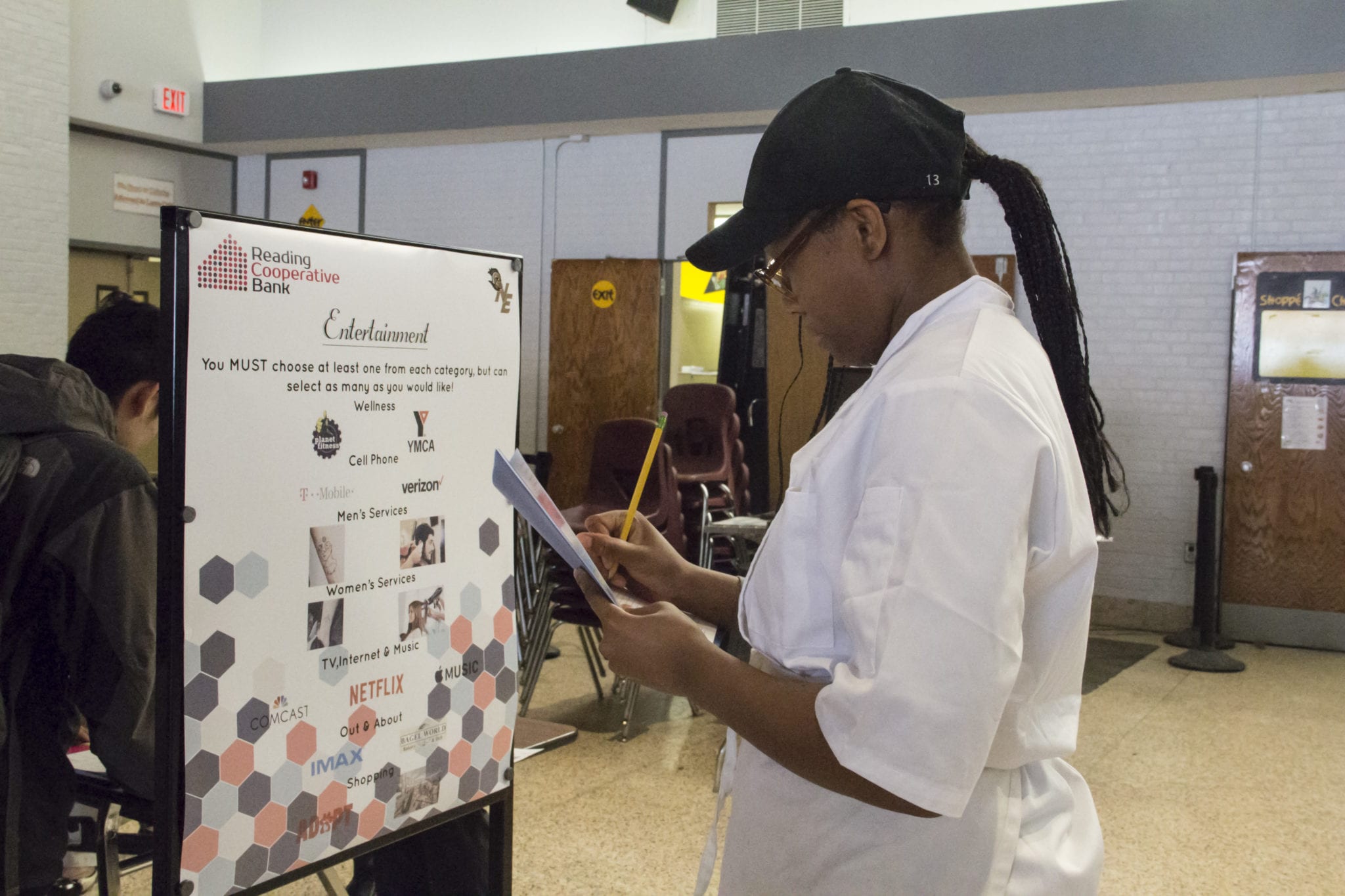 WAKEFIELD — Northeast Metro Tech juniors received a glimpse into what their futures may hold as they made their way around a financial literacy fair and attempted to plan life after graduation.
Organized by business technology students, the event was designed to give the junior class an idea of the financial responsibilities — obtaining a job in their technical area of study, to finding a place to live, buying groceries, setting aside money for retirement and handling unexpected expenses — they will face when they leave Northeast.
On Friday, April 27, from 8:30-10:30 a.m., 60 business tech students lined the cafeteria with different informational booths. Every junior attended the fair and received a folder of information that outlined their jobs and salary (ranging from about $15,000 to $80,000), depending on their technical area of study.
"When going into senior year, students aren't really thinking about their future," said business tech junior Daysi Martinez, of Chelsea. "This fair is meant to give them an idea about what decisions they'll have to make in the future and what their lives will be like outside of high school."
Students also randomly selected their credit score (from 350 to 850) and then proceeded to visit 13 different booths to plan out their lives. Each student's job, salary and credit score impacted what they'd be able to afford.
To make matters a little more interesting, students spun the "reality check" wheel, which featured unexpected circumstances in life that needed to be factored into how they budgeted for expenses. Students had to account for things like car accidents and speeding tickets, and in some lucky cases, an inheritance or winning the lottery.
"We think that students benefit from this experience because it gives them a basic knowledge of what their future will be like," business tech junior John-Michael Garofano, of Melrose, said. "We're so focused on college and jobs that we don't really think about anything else, but now students have to think about, 'oh I have to save this much a month to afford my apartment.'"
As students made their way through the booths, they were guided by business tech students and had to budget for the necessary tools associated with their profession, clothing, entertainment (cell phones, TV, internet, music, etc.), donations to charity, transportation, housing and retirement. Business tech students purposely tried to upsell participants so they could further understand the challenges of budgeting.
Given their situation, students needed to calculate whether they could afford to live on their own, buy a car and have the extras — like vacations, concerts or regular Starbucks coffees — or whether they'd have to scale back or take on a second job.
"Students are having eye opening moments going through each booth," said Jaime-Lyn Pickles, business technology department head. "We have some kids who are like, 'what do you mean I have to pay for that?' The exercise is pretend, but for some of these kids, this could be their reality in 18 months."
After visiting each booth, students met with representatives from Reading Cooperative Bank and Medicus, who served as financial advisers and calculated if students could afford everything they selected given their circumstances.
The fair was made possible through a $5,000 grant from the Massachusetts Division of Banks. Northeast would like to extend a special thank you to members of Reading Cooperative Bank and Medicus for participating in the fair and providing valuable financial guidance to students.
Pickles would like to thank the design and visual department, particularly juniors Sabrina Zaccaria, of Revere, Carter Cesareo, of Revere, Cassie Janus, of Wakefield, and Jesus Enamorado, of Chelsea, for designing and printing all the posters and related materials for the event.
###