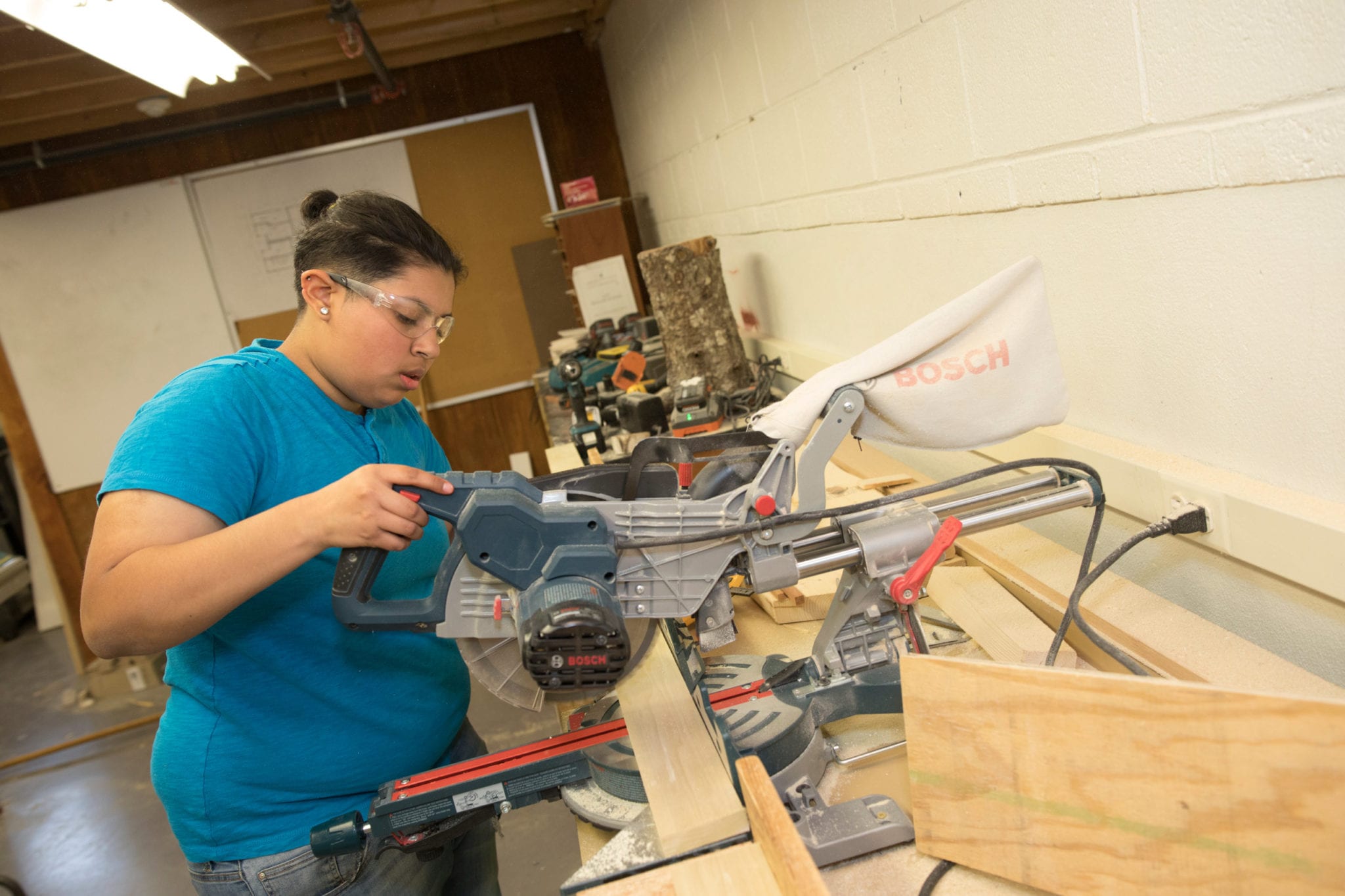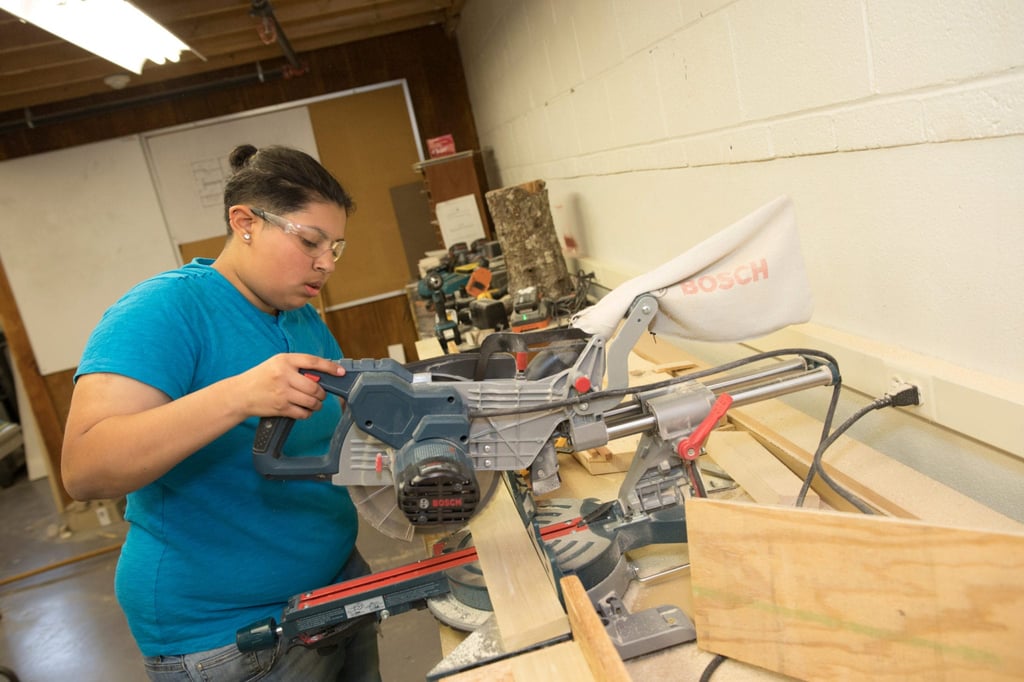 Carpenters are the largest group of building trade workers. They usually have greater opportunities than most other construction workers to become general construction supervisors as they are involved with the entire construction process. Throughout the program, strong emphasis is placed on employment with a union shop or general contractor. An integral component of the Carpentry curriculum involves shop workstations allowing students to practice all phases of house construction. Students are instructed in the use of hand power tools, industrial woodworking machinery, and a variety of contractor power and battery-operated tools. In the related (theory) courses, particular attention is paid to the knowledge of all materials used in the trade, the layout and calculation of dimensions, entry-level framing, window and door installation, and blueprint reading.
Upon graduation, students are employable as:
Carpenters
Lathers and Drywallers
Millrights
Cabinetmakers and Millworkers
Pile Drivers
Floor Layers
Residential Carpenters
Roofer
Interior Systems Carpenters
Vinyl Siding Installer
Technical and Higher Education Majors
Construction Management
Building Construction Technology
Civil Engineering Technology
Construction Engineering Technology
Career Advancement
Independent Contractors, Carpentry Supervisors. Carpenters usually have more opportunities than most other construction workers to become general construction supervisors because carpenters are exposed to the entire construction process. For those who would like to advance, it is increasingly important to be able to communicate in both English and Spanish in order to relay instructions and safety precautions to workers. Carpenters may advance to carpentry supervisor or general construction supervisor positions. Others may become independent contractors. Supervisors and contractors need good communication skills to deal with clients and subcontractors. They should be able to identify and estimate the quantity of materials needed to complete a job and accurately estimate how long a job will take to complete and what it will cost.
Industry Affiliations: SKILLS USA
Industry Certifications Available in High School
OSHA 10 hour Construction, Safety & Health
MAVA: DAT Division of Apprenticeship Training: Carpentry Articulation Verification
Grade 9 Exploratory – Course #CAX
With primary focus on safety, students complete a week long exploratory program which includes an overview of the various trades within the construction field. Topics covered include: print reading, framing, drywall and finish, as well as the application of interior and exterior finish materials. Students are instructed in the safe practices involved in construction demolition, and organizational skills.
Grade 9 Shop – Course #CAXF-16
Following shop selection, freshman Carpentry students are introduced to the basics of shop/worksite safety notably safe use of hand and portable power tools. Students complete small scale projects with emphasis on safety, measurement, layout, and basic construction math.
Grade 10 Shop – Course #CA2
Students are introduced to the various hand, power, and industrial tools utilized in the shop and at job sites. All students complete the 10-hour OSHA (Occupational Safety and Health Administration) Construction Training Program. Carpentry students, enrolled in our competency program, receive actual hands on training involving construction techniques from the foundation to the roof. Students work in 2 person teams toward completion of a work station/mock-up addressing competencies in print reading and layout, framing, roofing, drywall installation, wall finishes, exterior siding, trim work, and floor finishes.
Grade 10 Related – Course #CA2R
Students will be introduced to the fundamentals of construction carpentry including; personal worksite safety, proper use and storage of hand and power tools and ongoing development of construction nomenclature, and relevant math concepts.
Grade 11 Shop – Course #CA3
Students are re-instructed as to the various safety techniques and procedures, and must pass a safety orientation review test. The house building and remodeling programs are an integral component to the students' overall development as a tradesperson. Strong emphasis is placed on the construction competency program as well as the importance of safety and teamwork.
Grade 11 Related – Course #CA3R
The purpose of this course is to further the students instruction in the principles of the carpentry construction field. The course is designed to furnish the technical background to the student's experiences in the outside construction program. Initial work on the Junior/Senior project is also part of the curriculum.
Grade 12 Shop – Course #CA4
Students are re-instructed as to the various safety techniques and procedures and must pass the safety orientation test. There is a strong emphasis placed on the opportunity to participate in the school to work program. Students continue their house building and remodeling experiences with a strong emphasis placed on completing the competency program.
Grade 12 Related – Course #CA4R
This course is designed to instruct students in the more advanced aspects of the carpentry construction field. Topics covered include advanced framing, job site safety and maintenance, estimating, site preparation, code requirements, purchasing/billing, job supervision and scheduling. Students also work towards completion of the narrative portion of the Senior Project.