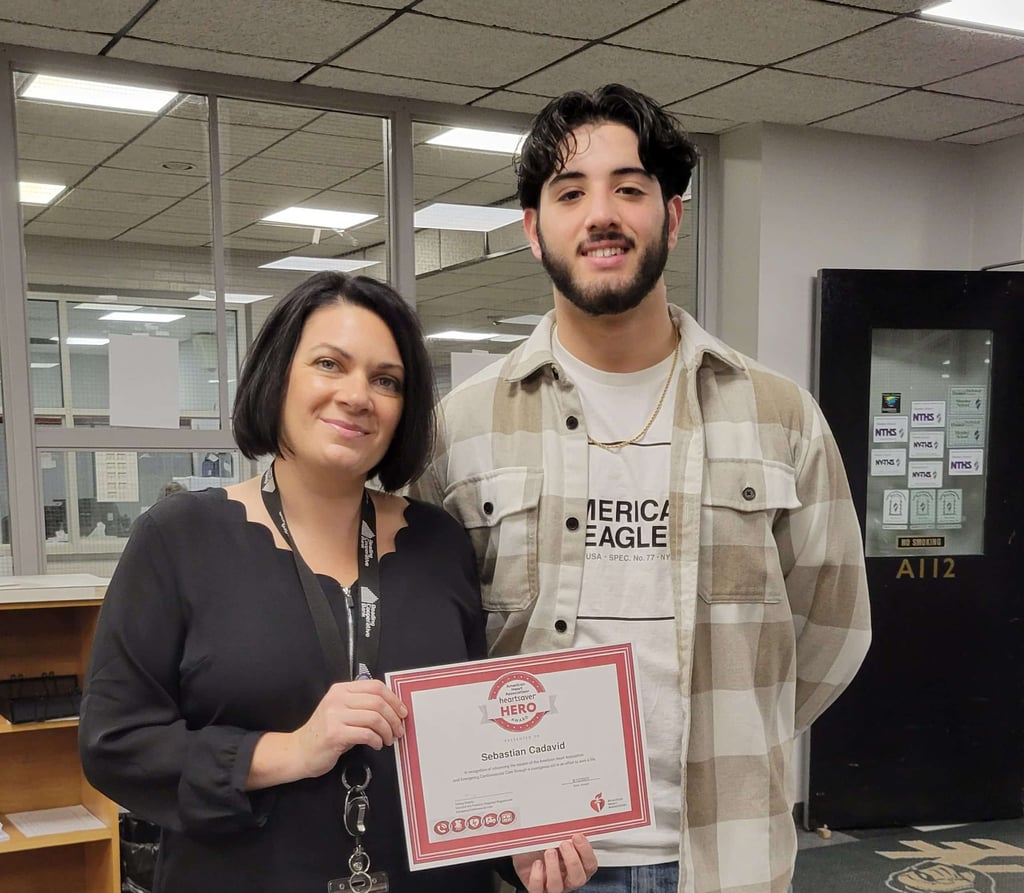 WAKEFIELD — When Northeast senior Sebastian Cadavid walked into the Wendy's in Saugus for a Biggie Bag last summer, he didn't expect he'd wind up with a citation for saving a life, but that's exactly what happened.
Cadavid was recognized this fall by the American Heart Association as a Heartsaver Hero after he administered lifesaving CPR on a woman who fell unconscious in the restroom.
Cadavid, a student in Northeast's Dental Assisting Program, arrived at the restaurant on June 29 with friends after attending the Agganis All-Star football game in Lynn earlier in the evening, shortly after the conclusion of last school year.
While waiting for their food, Cadavid heard calls for help coming from the restroom area, where he subsequently saw a woman apparently suffering from a seizure on the floor. Having been recently recertified in CPR — a direct result of his dental assisting coursework at Northeast — Cadavid jumped in to help.
He determined the woman had no pulse and immediately began chest compressions, which ultimately resulted in the woman regaining consciousness as police and firefighters responded.
"I don't know what came over me but I just thought to myself, 'I know CPR,'" Cadavid recalled. "(Afterward) I was like, 'Wow, I actually just did that.'"
"As a vocational teacher, we love to see our students put the skills and theories they learn into use, but this is beyond any of our expectations and had a huge impact on another person's life," Dental Assisting teacher Erin Selvitella said. "It doesn't get any better than that."
The Heartsaver Hero award is given by the American Heart Association to people in the community who perform CPR when emergencies arise. Selvitella presented the award to Cadavid — the president of the class of 2023 and a member of the football team — in late November.