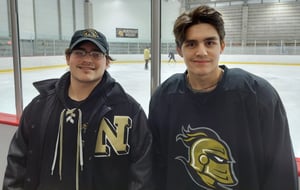 WAKEFIELD – The Northeast Metro Tech hockey team will look for leadership this season from two student-athletes who have been teammates for 18 years.
Senior forward Tom Chesna of Revere has been elected as Captain for the 2021-2022 season, which opens on Saturday, Dec. 11. His twin brother, Dom Chesna, has been chosen as Assistant Captain.
The brothers have been on the ice since age 4, when their parents John and Sandra Chesna taught them to skate using chairs for support.
Both joined the Knights team as freshmen, and will earn their fourth hockey letter this year.
"The first day I got here last year, I could see they were natural leaders," said Coach Brian Capistran, who is in his second season. "Their teammates voted them in as captain and assistant captain. They're great kids, and not just on the ice."
The Chesnas earned Commonwealth Athletic Conference All-Star honors in the 2020-2021 season, which was shortened due to the COVID-19 pandemic.
The best thing about playing with your brother?
Dom Chesna: "You're able to share the successes, the highs and lows. It's special."
Tom Chesna: "He makes me look good. We know where each other is on the ice without looking."
Inside Northeast Metro, both brothers have been accepted into the school's National Honor Society/National Technical Honor Society chapter. Dom Chesna also is a member of the school's SkillsUSA chapter; last spring he placed second in the SkillsUSA district competition and qualified for the state competition.
The brothers agree on the main source of their success. "In school and in sports, we wouldn't be in the position we're in today without our parents," Tom Chesna says.
Tom Chesna is studying in the Plumbing pathway, while Dom Chesna is studying in Heating, Ventilation, Air Conditioning and Refrigeration pathway. Both are talking about starting their own company in the future.
"Congratulations to Tom and Dom for being elected Captain and Assistant Captain," said Anthony Caggiano, Revere's representative on the Northeast School Committee. "They're examples on and off the ice for their teammates and all students, and I look forward to attending games this season."
The full Northeast Metro athletic calendar can be found here.