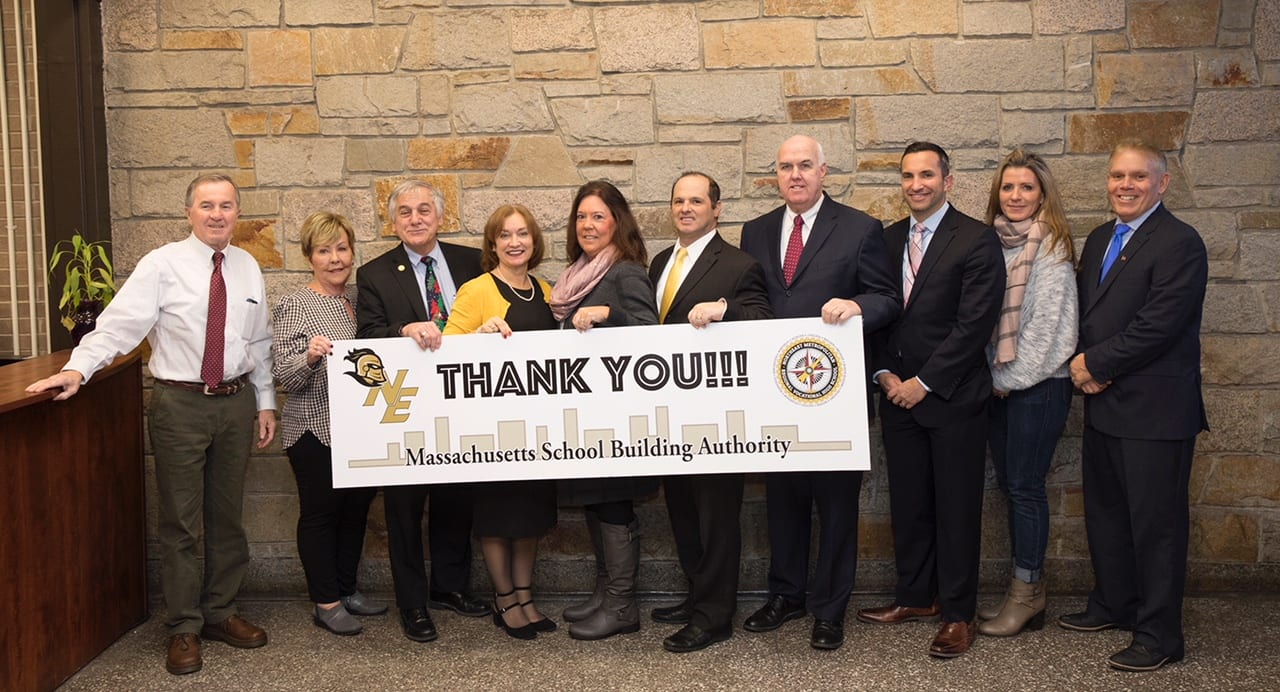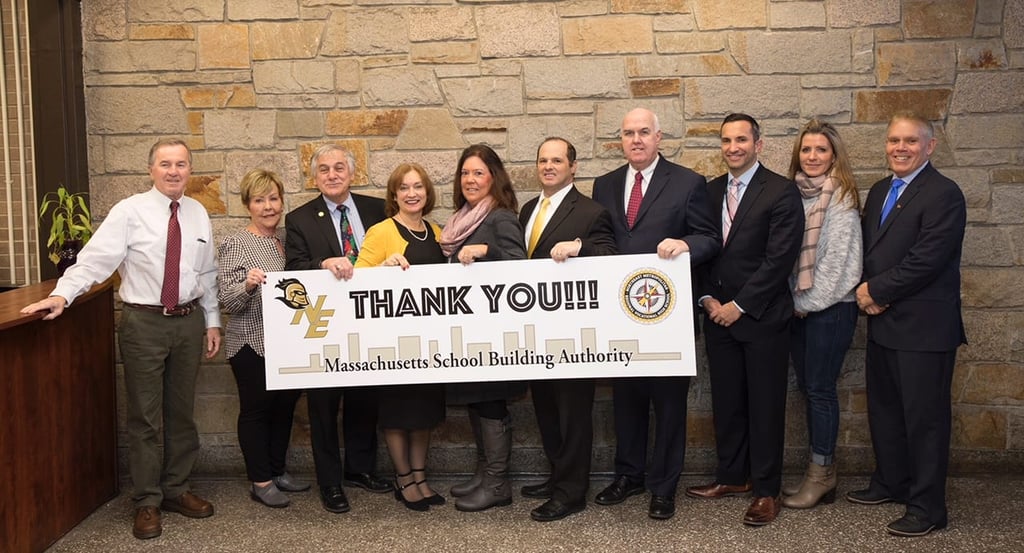 WAKEFIELD — Superintendent David DiBarri, Principal Carla Scuzzarella and School Committee Chair Deborah Davis are pleased to announce that the Massachusetts School Building Authority approved Northeast Metro Tech's proposal for a new building.
During a Board of Directors meeting on Wednesday, Dec. 13, MSBA — a state agency that works with communities to support educationally-appropriate, flexible, sustainable and cost-effective public school facilities — announced that it accepted Northeast into the Core Program, which assists districts with projects like extensive repairs, renovations, additions and new school construction.
"We're thrilled to have our project accepted by the MSBA and are extremely thankful for this partnership," Superintendent DiBarri said. "This new building project will allow us to meet the requirements of 21st century learning and provide our students with an updated space to excel in both academics and their technical areas of study."
Northeast representatives at the Board of Directors meeting included:
Superintendent David DiBarri
Dr. Carla Scuzzarella, Principal
Jay Picone, Director of Finance
Deborah Davis, School Committee Chair, Woburn
Judith Dyment, School Committee Vice-Chairman, North Reading
Larry Means, School Committee Treasurer, Stoneham
Peter Rossetti, School Committee Secretary, Saugus
Robert McCarthy, School Committee, Reading
Dawne Armistead, School Committee, Winthrop
Joseph Papagni, President of Northeast Metro Tech's Teachers Association
"We're beyond excited for this opportunity to continue the process of building a new school," said Davis. "We typically have a waiting list of 400-600 students, and this new school will allow us to keep turning out the best vocational students in the state, and I dare say, in the country. We'd like to thank the MSBA for their consideration on this and also the administration, faculty and my fellow school committee members for all their work that's brought us this far."
Superintendent DiBarri would also like to thank Governor Charlie Baker, Speaker of the House Robert DeLeo, Treasurer Deborah Goldberg, House Minority Leader Bradley Jones and Senator Jason Lewis for their leadership and support for public and vocational education.
With acceptance into the Core Program, the MSBA will reimburse Northeast for 71.84 percent of costs associated with the new building. The remainder will be paid by the cities and towns in the school district — mortgaged over a 30 year period. Local cost will be divided among communities based on the prior year Oct. 1 enrollment, as agreed to in the district's charter.
Northeast submitted their statement of interest for a new building project to the MSBA in April. School officials first looked into the possibility of a new building two years ago when a feasibility study called for a complete replacement of all mechanical systems and electrical systems, along with a full code and regulations update to the current building.
The study also revealed that Northeast's building requires modernization to comply with state regulations in terms of size and program demands, and is in need of more special education accommodations and better designated public meeting areas.
Northeast will now begin the process of completing a design study to determine the cost and timeline of the new building, which will be built on adjacent school land.
###