WAKEFIELD — Northeast Metro Tech metal fabrication students partnered with the Reading Fire Department this winter to create a custom gear rack for firefighters.
On March 15, after weeks of putting the project together, Capt. Rick Nelson from the Reading Fire Department visited Northeast to thank students for their work and pick up the rack, which will be used for storing jackets and equipment. Superintendent David DiBarri and Reading School Committee member Robert McCarthy also headed to the shop to praise students' efforts.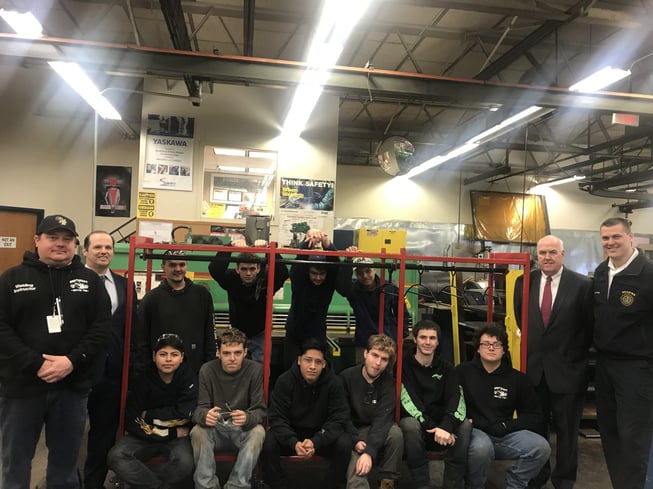 "Community partnerships like with the Reading Fire Department are part of the foundation of Northeast," Superintendent David DiBarri said. "We always like to seize opportunities that not only benefit a community group, but give students the opportunity to showcase everything they're learning in shop."
In January, Capt. Nelson reached out to metal fabrication department head Bill Williams to see if students could construct a 9-by-2-by-5 foot gear rack, as the department recently added four new members and needed an additional storage.
Northeast has a long history working with community departments and organizations, including the Reading Fire Department. About 20 years ago, Northeast created several other similar gear racks for firefighters.
"Everyone at Northeast has always been tremendous to work with, and now that we've outgrown the current gear racks we have, Northeast was our first choice for having another one made," Capt. Nelson said. "Thank you to all the students who dedicated time to this project, Bill Williams and Superintendent DiBarri."
Over the last two months, metal fabrication students worked on building the rack from the ground up. They drafted a layout of the structure, mapped out supplies and then began measuring, cutting and welding pieces together. They also used a Hossfled bender to make steal hangers that will hold firefighters' jackets.
"I really liked how the project incorporated everything we've been doing over the last couple years here," said senior Ryan Burke, of Saugus. "We started from scratch and went all the way to having a finished product. During the process I got to learn more about square tubing, which isn't a material we normally use in shop."
For the final touches, students added on eight wheels so that the rack can easily be maneuvered. Once completely built, students from the auto body shop powder coated the rack red and the hangers black.
"I want to commend students on a job well done," McCarthy said. "This was a great budget-friendly project for the Reading Fire Department that really allowed students to shine. As a member of the School Committee, I'm always happy to see these community relations continue to flourish."
###