WAKEFIELD — Superintendent David DiBarri is pleased to share that Northeast Metro Tech Culinary students created dishes for a community tasting fundraising event last month.
On Thursday, April 7, culinary students served handmade chocolate whoopie pies with marshmallow filling rolled in colorful sprinkles to attendees of the annual "A Taste of Spring" tasting event at Crowne Plaza Woburn.
More than 250 community members came to sample tasty treats and beverages from 40 local food establishments.
"This event serves as an opportunity for community members to feast on delights from some of the best culinary establishments in the area, and I am proud to see our students working alongside these successful businesses," Superintendent DiBarri said. "It was a great way to put their culinary skills to the test while supporting a deserving cause."
The event was hosted by the Woburn Host Lions Club and the Crowne Plaza Woburn. All proceeds benefited Nupath, Inc., an organization that has been supporting those with disabilities for over 45 years.
"My students put a lot of time and effort into preparing these delicious desserts, which were enjoyed by so many at the tasting. Events like these are special because students are able to connect with the community while having fun and showcasing the skills that they have learned during their time at Northeast Metro Tech," Culinary Department Head/Instructor Elizabeth Beal said.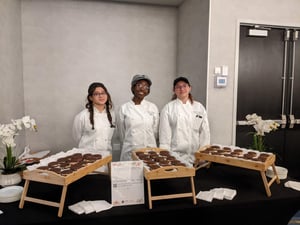 ###